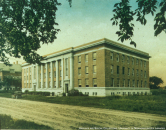 Chemistry Laboratory (Avery)
Vital Statistics

Dates:

1916–Present

Cost:

$250000

Contractor:

B.J. Jobst

Architect:

People:

Also Known As:

Avery Laboratory; Avery Hall

Built to replace the original 1885 Chemistry Laboratory, the new Chemistry Laboratory, later named Avery Laboratory, was constructed in 1916 as part of the University's six year, comprehensive building plan funded by the 1913 Legislature. All buildings included in the new plan were developed by the Boston/Chicago architectural firm of Coolidge & Hodgdon, the "official architects of the University". The new Chemistry Lab, along with Bessey Hall, was the first building constructed on the city campus with funds from the special levy for university construction. They were the first buildings located outside of the old iron fence surrounding the original University site, and their construction launched the first major expansion that signaled the development of the modern 20th century University of Nebraska.

The new Chemistry Laboratory was dedicated in May, 1919. Its design followed the concept recommended to Chancellor Avery by Coolidge & Hodgdon for the entire campus: red brick structures with Bedford limestone trim and classical details involving the use of columns and pilasters, paned windows, and symmetrical proportions. It utilized double staircases like nearly all buildings designed by Coolidge and Hodgdon, and like Bessey Hall, contained a large, centrally located lecture hall.

In 1916, the new building was located directly across T street to the north of the decrepit Nebraska Hall. The football playing field, the precursor to Memorial Stadium, lay to the west of the Chemistry Lab.

In 1946, as GIs returned to campus following WWII, an addition was added to the southwest side of Avery Lab. This addition housed Chemical Engineering until the opening of Othmer Hall in 2002. Former Chancellor Samuel Avery died in 1936 and the building was renamed Avery Laboratory in his honor when the addition was dedicated in 1948.

Avery Hall underwent complete renovation and reopened in 2004.




Source Information:
University Archives, Samuel Avery papers, Charles Hodgdon file. Obituary, Samuel Avery, Lincoln Journal and Star, Jan. 26, 1936.