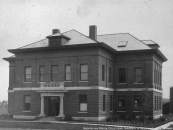 Judging Pavilion (Miller)
Vital Statistics

Dates:

1908–Present

Cost:

$30000

Contractor:

W. L. Campbell

Architect:

People:

—

Also Known As:

Animal Husbandry Hall, Miller Hall, Old Animal Science

The Judging Pavilion was planned in 1903 with an appropriation from the Legislature of $40,000 to be used for farm campus improvements. Woods and Shaffer were hired to provide architectural services for the Judging Pavilion, but the construction of the building was delayed for several years. The Judging Pavilion was completed early in 1908.

The Judging Pavilion was used primarily for stock and grain judging. It is constructed in common red brick with sandstone trim and slate roof. The simple building has two stories, a hipped roof, and dormers. The Judging Pavilion was remodeled following a fire in 1931, and renamed Animal Husbandry Hall in 1932. It ws given the name Miller Hall in 1972.

The location of the East Campus Union on the west side of Miller Hall led to the abandonment of the original entry. The entry is embellished with a ballustrade supported by doric columns. Decorative exposed brackets line the eaves. The dormers have been removed.