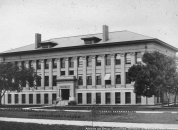 Agriculture Hall
Vital Statistics

Dates:

1904–Present

Cost:

$60000

Contractor:

Capital City Brick and Pipe Co., Des Moines, IA

Architect:

People:

—

Also Known As:

—

Construction on Agriculture Hall began in June of 1904, and was completed and accepted by Board of Regents, May 29 1905. The building dedication took place on Jan. 16, 1906.
The Building Committee of the Board of Regents indicated that "...the large building for school purposes be located so that the south east corner thereof will be in line with the south side of the experiment station building."

Planned as a classroom building, the new Agriculture Hall also housed the library materials formerly housed in the Agriculture Experiment Station building. Library materials remained in Agriculture Hall until the construction of CY Thompson Library in the early 1960's.

Agriculture Hall is constructed of Omaha grey pressed brick, limestone and terra cotta trimmings, with a slate roof. It was design by Ferdinand Fiske, an important early Lincoln architect, during his partnership with Charles Dieman. Fiske also designed the Women's Building, later called Home Economics, situated immediately north of Ag Hall.

Agriculture Hall remains mostly unchanged since its construction over 100 years ago. It is home to the administrative offices of the Institute for Agriculture and Natural Resources.


Source Information:
Minutes, UN Board of Regents, Building Committee Report.