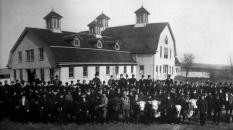 Dairy Barn (Original)
Vital Statistics

Dates:

1903–1925

Cost:

—

Contractor:

—

Architect:

People:

—

Also Known As:

—

The original Dairy.Barn was situated north of the Dairy Building at 38th and Holdrege. It was a large frame structure built to house the herd developed by the Dairy Science faculty and students. It was complete with modern silo, judging area, water, sewers, and feed carrier.
An overloaded hay mow caused the Dairy Barn to collapse in March 1925, shortly before a milking crew arrived to conduct their work. Several cows were injured, and three cows died. Another Dairy Barn was not rebuilt on the site; a new dairy complex was completed at 39th and Center Drive.



Source Information:
Frolik, Graham, The University of Nebraska-Lincoln College of Agriculture : the first century; Minutes,U of N Board of Regents, May 1903, March 1925.