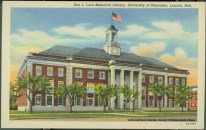 Love Library
Vital Statistics

Dates:

1941–Present

Cost:

$850000

Contractor:

Olson Construction Co.

Architect:

People:

Also Known As:

Don L. Love Memorial Library

As early as 1911, when the first University Library was barely twenty years old, space was running out for library collections. In 1912, the State Historical Society, which had been camped out in the library basement since its construction ten years earlier, was notified by Chancellor Avery that the University Library needed the entire building for library purposes. WWI and the Great Depression intervened. .Aggressive campaigning for a new library building began in earnest in the late 1930s. In 1940, the Board of Regents announced that Don L. Love, a Lincoln banker, lawyer, and two time mayor, had made a gift of $850,000 to be used for construction of a new library.

Ground breaking for Love Library took place in the spring of 1941. The basic building was completed in 1943 and was used initially as living space for cadets in the Army Specialized Training program. In the fall of 1945 the library was at last opened to students.

Love Library was the largest building on campus when it was completed. It was designed to house 800,000 items, and had six large reading rooms with seating for nearly 1000 students, and over 50 study rooms for faculty and graduate students. A large auditorium seated 360, and a student lounge for socializing was incorporated into the original plan.

Love Library was designed to utilize the "divisional plan", a modern system of library organization. The divisional plan was developed to remove barriers to information that existed prior to WWII in the form of building layouts, closed stacks, and over zealous librarians. In the new building, students were "surrounded" by thousands of volumes to which they had direct access in the large reading rooms. These reading rooms were devoted to the humanities, science & technology, education, and social sciences, and were each managed by a cheerful and knowledgeable subject specialist librarian.

Love Library was designed by Davis & Wilson during the era when nearly all University buildings were designed by the firm. The design of the library carried on the brick and limestone theme used throughout the first half of the 20th century. It was described in dedication materials as being "distinguished by simplicity and dignity". The main entrance on the north was characterized by a series of squared pillars surrounding the entry doors. The south façade was enhanced by expansive rose gardens and lawn. Its distinctive white cupola has become synonymous with the downtown Lincoln campus.

By the 1960s, the collections within Love Library had outgrown the building. In 1972 an addition was constructed on the north side of the building, forever altering the distinctive entry area, as well as the Quadrangle.


Source Information:
University Archives; Bd of Regents minutes, 1940,1941.