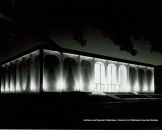 Sheldon Museum of Art
Vital Statistics

Dates:

1961–Present

Cost:

$2359000

Contractor:

Olson Construction Co.

Architect:

People:

—

Also Known As:

Sheldon Memorial Art Gallery

Sheldon Memorial Art Gallery was funded through a gift from Frances Sheldon of Lincoln, who died in 1950, and her brother A Bromley Sheldon of Lexington, who died in 1957. Norman Geske, director of the University's Art Museum, began planning the new Gallery in 1958. The Art Museum had been housed for decades in Morrill Hall, the University's natural history museum. Construction of the Sheldon Gallery began in 1961. It was built on the site of the first Chemistry Laboratory, which was razed to make way for the new gallery.

The Nebraska Art Association, led by Fred Wells, worked with Geske to stage an invited competition to select a design for the gallery. Marcel Breuer, Richard Neutra, and Philip Johnson were invited to submit plans. Ultimately, Johnson's elegant, contemporary adaptation of a traditional museum form was selected.

The Gallery exterior is dominated by tapered piers and arches, all clad in white travertine marble. Italian stone artisans traveled to Lincoln to supervise the placement of the marble, which was cut and numbered in Italy. The exterior arches rest upon a plinth course also clad in travertine. The walls of the Sheldon Sculpture Garden, completed a few years later, continue the horizontal travertine course, as does the wide entry staircase on the east.

Interior space in the Gallery centers around the two story Great Hall. Intimate galleries are located on the second level, linked by a dramatic bridge staircase traversing the Great Hall. The Great Hall spans the width of the building; the exterior walls, which contain the entries, are two stories of glass. The interior walls of the Great Hall are faced with travertine, and the ceiling is accented with large circular panels covered in gold leaf. At the time of its construction, Sheldon was reported to be the most expensive structure ever built in the U.S. at a cost of $67 per square foot.

Two pieces of artwork were commissioned for the new Gallery. Isamu Noguchi sculpted "Song of the Bird" in granite and marble, and Jaques Lipchitz provided a bronze, "Bather". Mrs Olga Sheldon made a gift of "Princess X" by Constantin Brancusi, as a memorial to her late husband, Bromley Sheldon.

Sheldon Memorial Art Gallery was dedicated May 16, 1963, with Philip Johnson speaking at the ceremony. The Sculpture Garden was dedicated in 1970. In 2008 the Gallery was renamed Sheldon Museum of Art.


Source Information:
Summer Nebraskan, June 11, 1963. Interview, Norman Geske.