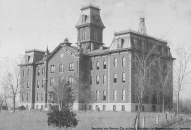 University Hall
Vital Statistics

Dates:

1869–1948

Cost:

—

Contractor:

J. D. Silver and Sons

Architect:

People:

Also Known As:

U Hall

University Hall was designed by architect J. M. McBird of Logansport Indiana. McBird described the architectural style as "Franco Italianate". J.D. Silver and Sons served as contractors for the building, which was plagued by poor quality materials, cost overruns, and negative publicity. David Butler, Nebraska'a first governor, hoped that the large, ornate building would inspire and awe visitors to Lincoln, with an added benefit being that it would also increase property values. Eventually the controversies surrounding the construction of University Hall led, at least in part, to Butler's impeachment.

On Aug. 9, 1870, three men died during construction in an accident involving a broken cable holding scaffolding. The contractor, J.D. Silver was most likely negligent; he later became mayor of Lincoln.

The cornerstone of University Hall was laid in 1869. Building materials were scarce as there was still no railroad line into Lincoln. Lumber was hauled by wagon from the Nebraska City area, cord wood used to fire the brick was also hauled many miles. A local brick shortage compounded problems.

University Hall was three stories with a full basement, a mansard roof, a large central tower, a chapel, and a bell. It was constructed of local limestone and common brick. These materials proved to be inferior and by the time the building was ready for classes in the fall of 1871 repairs had already been made to the foundation. The foundation under the chapel was replaced in 1873, and the entire foundation was replaced in 1877. Another new foundation was installed under the tower in 1893. Contents of the original cornerstone were damaged as a result of leakage; another cornerstone was laid with the 1877 foundation.

If the foundation was weak, the roof was no better. The original tin roof leaked from the beginning and was replaced with as slate roof in 1883, adding weight to an already strained foundation and walls. By 1916 the walls had shifted and deteriorated so severely that a series of steel rods were added, running through the width of the building from north to south, to provide stability. In 1925 the upper stories and mansard roof of University Hall were removed, leaving a pathetic remnant of a once imposing structure. The building was razed in 1948. The bell is now a part of the garden at the Wick Alumni Center. A model of University Hall was given by the class of 1897 and is currently housed at University Facilities Management.

Despite the many problems that plagued University Hall, it was fondly remembered by students and faculty alike, and efforts were made to save the building when its demolition was imminent.

Source Information:
Centennial History of the University of Nebraska, Robert Manley, 1969.