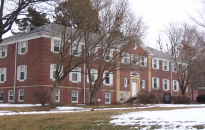 Love Memorial Co-op Hall
Vital Statistics

Dates:

1940–Present

Cost:

$45000

Contractor:

Assenmacher Construction Co.

Architect:

People:

Also Known As:

—

Love Memorial Cooperative Hall was a gift from Don L Love in memory of his wife, Julia. Love Memorial Cooperative was constructed in 1941 on the Agricultural Campus; Mr. Love had provided funds for Julia L. Love Hall, an addition to Raymond Hall Women's residence on City Campus, a year before. Love Memorial Cooperative was dedicated on May 17, 1942.

Love Memorial was conceived as a cooperative living experience for young women who wished to economize on living expenses while attending the University. Women were expected to participate in cooking and housekeeping activities, and efforts to economize were encouraged. The facility was open to students enrolled in Home Economics and selection for the Coop functioned as a scholarship based on scholarship, citizenship and need. At the time of its construction, this cooperative concept was unique.

Love Memorial Cooperative provided living quarters for 46 girls plus a housemother on the two upper floors. The ground level contained kitchettes for smaller meal preparation.

Love Memorial is constructed of red brick in a traditional design. It was designed by Meginnis and Schaumberg, a Lincoln architecture firm.



Source Information:
Lincoln Journal, Oct 1940. University Archives.